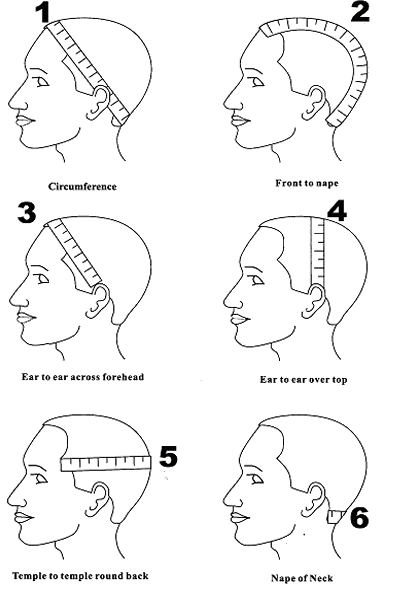 NOTE:
This head measurement guideline is a basis for measuring your head for our custom and in-stock
FULL lace front units only
! If you are only interested in purchasing our "Lace Frontals (Toupe), please refer to our
Lace Cap Design
page for measurement options. While you are measuring, you may want to print and input your measurements on the sample head guide chart above while preparing your FULL Lace Front Wig Order Formonline.
1.
The circumference of the Head: Measure all around the head. Position tape measure so its edge follows the hairline around the head and nape of the neck (Average measurement is 22 inches).
2.
From Forehead to Nape of Neck: Measure from Hairline at center of forehead straight back over crown to center of hairline at nape of neck. (Average measurement is 13 1/2 inches.)
3.
Ear to Ear Across Front Hairline: At front of ear, measure from hairline at base of sideburn, up across the hairline along forehead to same point in front of other ear (Average measurement is 11 1/2 inches.)
4.
From Ear to Ear Over Top of Head: Measure from hairline directly above the ear across top of head ot the hairline directly above the other ear (Average measurement is 11 inches.)
5.
From Temple to Temple: From temple to temple across the back of head. (Average measaurement is 14 inches.)
6.
Nape of Neck: Measure the width of hairline across the nape of the neck. (Average measurement is 6 inches.)
In Stock Wig Size Guideline Measurements

SMALL

MEDIUM

LARGE

X-LARGE

Circumference

21 1/2

22 1/2

23 1/2

24

Front-to-Nape

13

13 1/2

14 1/4

15

Ear-to-Ear across forehead

11

11 3/4

121/2

13

Ear-to-Ear over top

11 3/4

12 1/2

13 1/2

14

Temple-to-Temple around back

14 7/8

16

17 1/8

18

Nape of Neck

4 1/2

5

5 1/2

6