This is the hair used for extensions and wigs and comes with different grades and qualities. In general, as they say, you get what you Pay for. The highest grade of hair quality will still have it's cuticles in tact and aligned in the same direction. Cheaper hairs are often been through a process of acid bath which completely destroys the cuticle. silicon is usually coated on such hair to give a shiny healthy appearance but after a few washes the silicon is removed and such hair will tangle, dry out and damage easily.
The higher the grade of Remy hair, the better the quality.
European Remy Hair
Does not necessarily come from Europe. It is a group for different hair with an almost similar structure. Indian hair, Latina hair, European hair ( Slavic, or Russian hair), with the exception of Asian hair and African textured hair.
Typical European Remy hair is relatively thin and has an oval cross section.
Such have texture as Silky straight, Body waves, and Relaxed Remy Texture.
Asian Remy Hair( Mostly Chinese hair, Malaysian, Mongolian)
This hair is thicker than European hair and has a round cross-section.
It is usually dark black. This hair can be processed to be made thinner and coloured lighter.
Indian Remy Hair ( Nepal, Brazilian )Most popular for Wigs and hair extensions.
This hair is very similar to European hair structure. In general this hair type is of very high quality due to origin as most Indian donor would most likely never visited

salon to process or colour hair before donating. Most likely most virgin cuticle hair are of Indian origin. But this hair also has grades due to how the hairs are collected. When different hairs are mixed with cuticles aligned in different directions, this affects the quality and therefore less expensive. Hair companies in Korea and Indonesian are specialised in this type of hair.
To prevent tangling, the hair may be covered with silicon to keep the cuticles in tact. Such as Virgin Malaysian, Brazilian hair.
If collected the right way ( cut directly from braided pony) the cuticles are present and in the same direction, this is one of the finest highest grade quality of hair.
There are so many confusion out there about what is Remy hair , cuticle hair , virgin hair e.t.c
Remy hair- Means high grade human hair which may or may not have Such processing may include colouring (1b, 2, 613, e.t.c)
silicon treated, or textured like silky straight, body waves, yaki ( to resemble African American texture, deep waves e.t.c) Grades and method of processing determine quality.
This is the same for non-cuticle hair.
Cuticle or virgin hair- Unprocessed Hair, with cuticles in tact.
No colour or texture change - such hair will not be of a definite particular colour. The are of natural textures of hair with natural hue colours such as natural black may be with hint of brown if different light Or natural Brown.
Usually they are single drawn hair with natural ends, and natural blended lengths.
Synthetic Hair
This is man-made fibres that are made to look and feel like natural hair. some may produce a different sheen than human hair and moves differently and therefore does not blend with human hair.
New fibres are continuously been developed that have better resistant to heat and have appearance closer to human hair. This hair is the most inexpensive and sometimes comes in various colours.
Sometimes this hair is mixed with human hair and this combination is used for wigs. In most cases this is where you find cheaper quality of hair used for hair extensions and wigs. The end result in appearance may look good initially but the quality of the natural hair is compromised greatly.
Overheating is one of the biggest enemies for natural hair. Such as constant blow drying, hot curling irons. Damages can be as deep as the cortex which is in middle layer that provides the elasticity strength and condition.
Hence it is best to allow your hair dry naturally.
Hair Length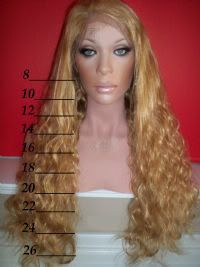 Length is entirely at the customer's discretion during the first cut in for the hairpiece. Any length can be obtained up to 26 inches. Additional fees are applied for all lengths over 14 inches.
Remy hair texture patterns
Remy Natural Straight
Remy Curly ( deepwaves, 4mm curl)
Remy Loose Curly (12mm curl, 9mm curl)
Remy Loose Wavy ( French waves, bodywaves)
Remy Wavy ( Natural waves)
Remy Coarse Yaki
Remy Yaki light
Remy European Straight
Remy European Bodywave
Remy European Wave
Remy European Curly
Brazilian Virgin Remy
Malaysian/Chinese Remy
Custom Blended Hair
WET N WAVY: Small curl pattern. Traditional wet and wavy texture.
EURO WAVY: Mixture of Spanish wave, and European Straight.
SPANISH WAVY

: Deep body wave texture, can be blown dry straight or roller set. Offers volume and bounce. Roller sets last long with this texture. Can be flat ironed straight.
SEMI STRAIGHT: Loose bodywave texture, can be blown straight.
RELAXED STRAIGHT: Silky straight hair with very little texture.
EUROPEAN STRAIGHT: Straight silky European hair.
PERM

STRAIGHT: Blend of Relaxed straight and yak, best for coarse textured hair.
YAKI PERM STRAIGHT: Straight hair with texture. Best for coarse textured hair.
SOFT KINKY STRAIGHT

: Mixture of French refined and relaxed straight. Similar to body wave texture without the shine when wet. Looks like a soft press when blown straight. Can be flat ironed for a sleeker look.
KINKY STRAIGHT

: Mixture of French refined and yak. Straight when wet. Straight with a little kink.
AFRO KINKY:

Tight afro kinky curl, 4a curl pattern. Creates fluffy Roberta Flack type afro.
Hair Density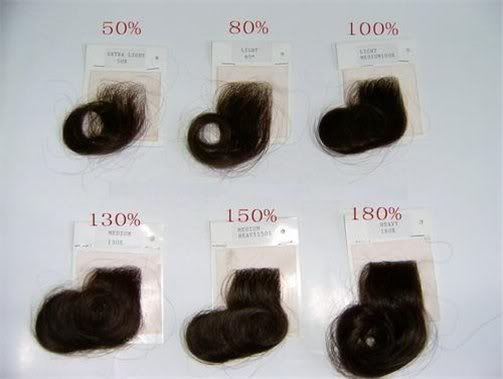 Hair density is simply how many hairs are added to your hair system base. In the old days, high density was necessary because the base materials were usually made of thicker materials and would be easily exposed if hair density were low. Nowadays, with the advance of thinner base materials such as lace and thin skin low density tends to look more natural especially with the see through look along the hairlines. You can chose different hair density in different areas of the base.
Extra light density is 45% ( ideal for frontal pieces)
Very light density is 50%
Light density is 55% to 65% .
Medium light is 70% to 80%.
Medium 90% to 100%.
Heavy
110% and up (For women only. This is very, very thick).